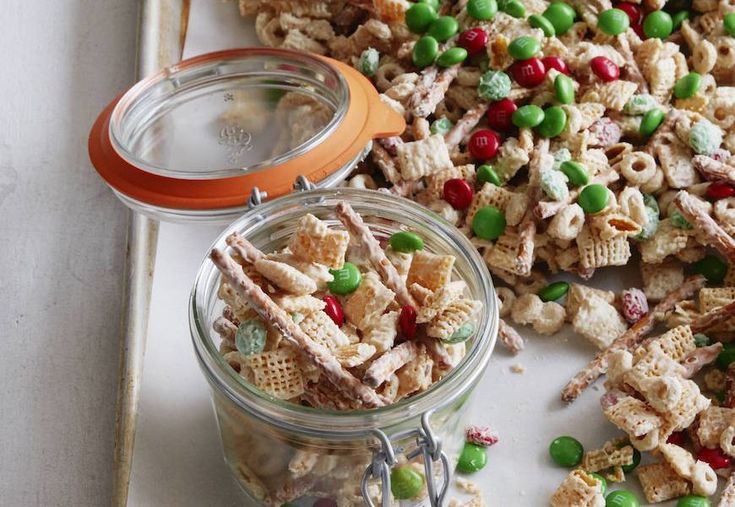 Easy to make, Kids love love love it!
It's a sweet and salty snack made with a combination of cherrios, rice chex, wheat chex, pretzel sticks, M&M's and white chocolate. Image trail mix on steroids – it's EVERYTHING. My mom's been making this mix for us for ages, especially during the holiday season because it's just so gorgeous and festive. I like to make big batches of this and pack it up so I can give it out as gifts around this time of year! Also – FYI – it keeps super well in the freezer.
TOP Reviews:
Easy, to make
Kids love love love it!
You can also add sprinkles, & or coconut flakes
it was AMAZING also if you want you can skip the backing step so it isn't hard but is still delish
Oh goodness! Trying to make these for New Years Eve family gathering and mistakenly sprinkled chocolate chips over Carmel mixture I had just spread over crackers and realized my mistake right as the chips were melting in the oven! I left them in the warm oven turned off til chips completely melted, then spread evenly over crackers. We shall see how they turn out Going into refrigerator now!
OMG ! this is very easy and so good! I just made this today with light brown sugar and Milk Chocolate. It is no problem ,everything came perfect ! Definitely repeat . Thank you
INGREDIENTS
---
3 cups Cheerios
3 cups Rice Chex
3 cups Wheat Chex
To Find Out All The Yummy Ingredients And The Step By Step Directions To Follow for this Delicious recipes,Go to the next page.