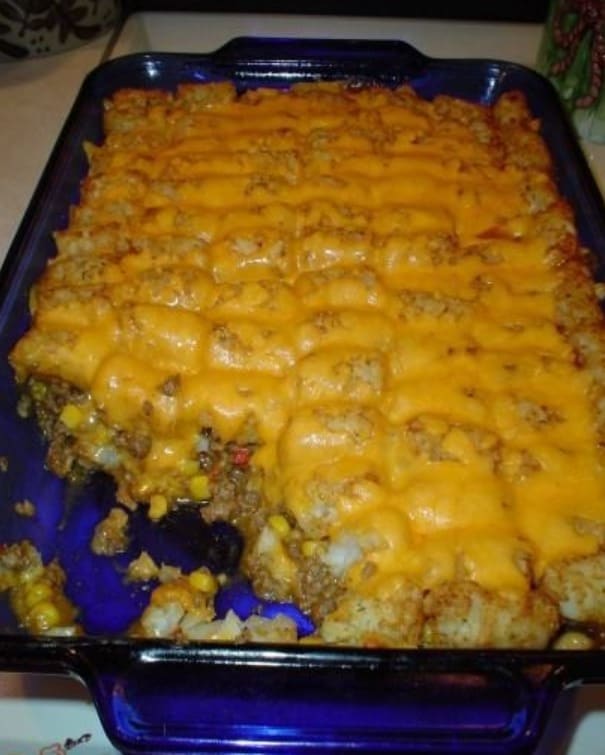 This was GOOD! Next time I think I might use 2 cans of the fiesta cheese soup (mine was just a tad bit dry). I was really surprised when all 3 of my picky eater kids ate it. I agree with another reviewer, it tasted even better the next day. Thanks for a different way to make a tator tot casserole!
I liked the recipe. But I did add blackbeans,tomatoes with greenchiles.. It came out so good. My husband and 3year old son loved
This was good and different. I followed the recipe as written other then I had frozen cooked burger in the freezer so used that. I added the taco seasoning and the directions say to add water but it doesn't saw how much water to use. I used 3/4 cup of water. I also topped ours with a mexican blend of cheese. This was something different for us.
This was so good! my niece had a friend over and between those two and my husband and I we pretty much cleaned the dish. I could not find either soups mentioned in the recipe or review so I got a can of cheddar cheese soup and mixed it with one can original Rotel. This smelled really good during baking and it was very tasty, a real nice little kick to it. It has already been requested for dinner again.
Ingredients:
2 lbs lean ground beef
1 (1 1/4 ounce) package taco seasoning
1 (15 ounce) can corn, drained
1 (10 3/4 ounce) can Fiesta nacho cheese soup
1 (32 ounce) package tater tots
1 (8 ounce) package cheddar cheese
Directions :
Brown beef drain.
Stir in taco seasoning and water and simmer for 5 minutes.
Add corn soup put in 9 x 13 pan and top with tater tots.
Bake at 350 for 35 minutes.
Take out top with cheese put back in oven for 5 minutes or till cheese is melted.
Add ketchup or taco sauce when served tastes very good enjoy.
From: food.com